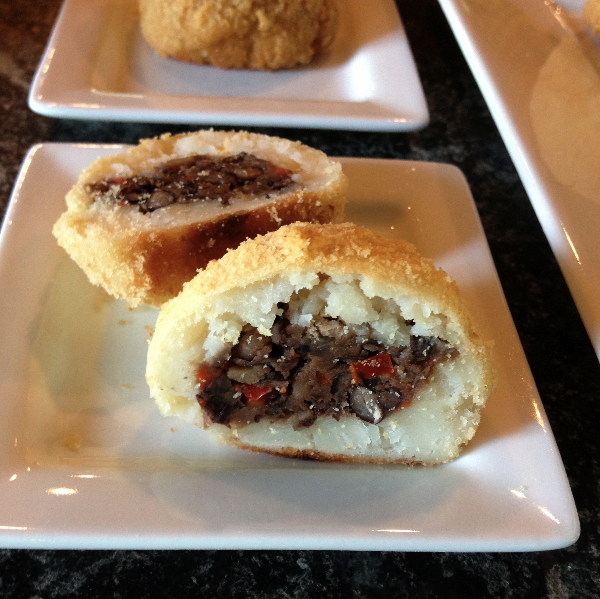 One of my favorite parts of the annual Eat Write Retreat food bloggers conference, is the Culinary Challenge.  This year, all the participants registered by April 15th were sent boxes containing one of four Mystery Ingredients (along with a boatload of OXO tools to help us out). The challenge is to create at home, an Amazing App centered on the ingredient that was randomly assigned to each of us.  My ingredient? The potato.
In and of itself, the average potato is only about 110 calories and quite the nutritional powerhouse, containing 45% of the daily requirement of Vitamin C – and that's just in the flesh. Eaten with the skin, you've got additional dietary fiber and more potassium than a banana!  And they're fat-free… that is, until you start adding stuff to them.  What's not to love?  The potato is also such a versatile vegetable, the challenge wasn't in coming up with ideas, but in narrowing it down to just one!  So, I thought about different types of appetizers:  Finger food or plated? Party food or sit-down dinner?  Ultimately, I was inspired by a common Latin street food: the Papa Rellena, or Stuffed Potato.
Papas Rellenas (pronounced ray-yé-nas) are common here in Miami, and eaten at any time of day – for breakfast, lunch, or just a snack.  Every cafetería, large and small, has a service window on the sidewalk.  Hardly anyone ever uses the door. You walk up to the window to order your café con leche or cortadíto.  There are glass cabinets on or near the counter containing a variety of pastelítos (pastries), empanadas (individual meat pies – spicy or mild), and the ubiquitous papas rellenas: large deep-fried balls of mashed potato hiding a center of delicious picadíllo (seasoned ground beef).  Your choice is placed in a deli paper-lined plastic basket and handed to you through the window with your coffee.  You eat these delights with your hands. Only gringos (the uninitiated non-Hispanics) ask for a knife and fork.  Never ask for cutlery – it's a dead giveaway.
So, I had two challenges: (1) Transform this pedestrian ethnic street food into an Amazing Appetizer; and (2) Make it healthier.
To those ends, I started by creating a filling that contained no meat, but retained the texture and flavor profile of the original, and then decided to bake them, rather than fry.  My version is about half the size of the street food version, making them the perfect size for appetizers or party snacks, but what really makes them ready for prime time is a touch of black truffle salt.  Extravagant?  Maybe a bit, but a little goes a long way, and let me tell you – there are few things better than potatoes seasoned with a hit of truffle salt!
Vegan Truffled Stuffed Potatoes  (makes about 24 pieces)
For the filling:
14.5 oz  can of black beans
1 Tbs. canola or olive oil (your choice)
3/4 cup finely chopped onion
1/2 cup finely chopped red bell pepper
2 cloves finely chopped garlic
1/2 tsp. kosher salt
1 tsp. ground cumin
ground black pepper to taste
Drain and rinse the black beans and set aside.
Heat the oil in a medium non-stick sauté pan over medium-high heat. Add the onion, bell pepper, garlic, and salt. Reduce heat to medium, stir and sauté until the onion is translucent.  Add the cumin and black pepper, and stir until well mixed.
Add the black beans to the pan, stir to mix well, and using a potato masher (or other suitable tool), mash the beans and vegetables together, combining until you have a dry mixture that resembles browned ground beef.   Remove from the heat and allow to cool.
For the potatoes:
5 lbs. of white potatoes
2 tsp. black truffle salt
Peel the potatoes and cut them into roughly 2" pieces. Place them in a large pot, cover with cold water, and bring to a boil.  Cook the potatoes about 20 minutes, or until fork-tender.
Drain the potatoes, and while they're still hot, put them through a ricer, or mash until completely smooth, with no lumps.  Add the truffle salt and mix very well.  Do not add any butter or liquid!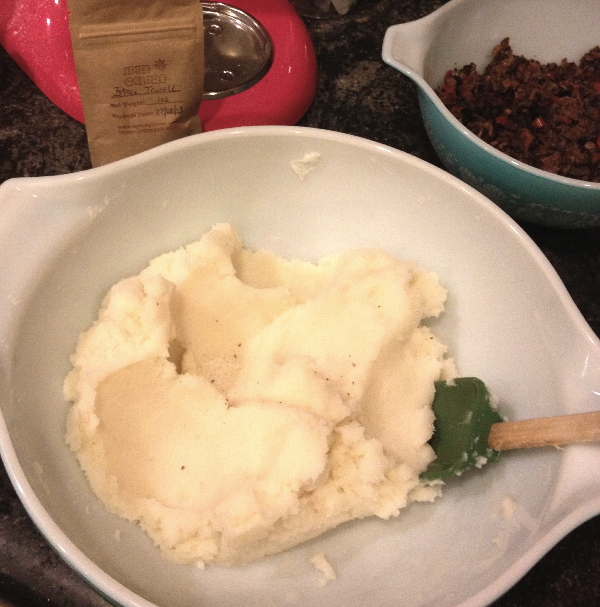 To Assemble:
About 1 1/2 cups of finely ground, unsalted cracker crumbs (like soda crackers), or plain, unseasoned bread crumbs
Oil of your choice for brushing
Prepare a baking sheet by covering it with aluminum foil and either brushing it with a bit of oil, or spray lightly with cooking spray.
While the potatoes are still warm, and using a large cookie scoop or your hands, scoop out generous mounds of mashed potato and roll them between your hands to make firm balls about 1 1/2″ to 2″ wide.
Cut each ball in half and, placing one half in the palm of one hand and using the fingers and thumb of the other hand, shape each half into a bowl.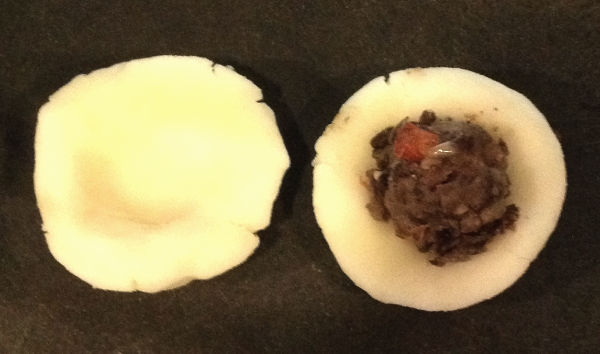 Using a teaspoon or the large end of a melon baller, place a generous scoop of the filling in one half. Place the other half over it and seal the two halves together, rolling the ball between your hands and making sure there is no visible seam.
Place the stuffed potato balls onto the prepared baking sheet and put it in the freezer for one to two hours.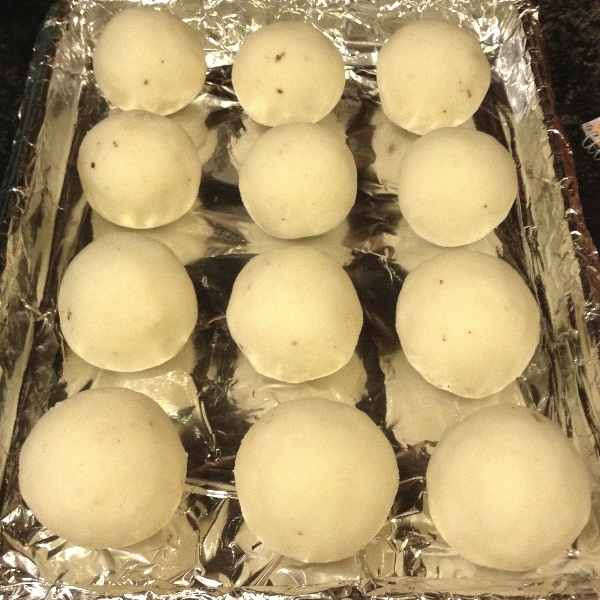 Preheat the oven to 450º F.
Remove the potato balls from the freezer.  Brush each ball with the oil, then coat with the cracker crumbs and replace it onto the baking sheet.
Bake for about 30 minutes, or until the balls are golden brown.  Allow them to sit on the baking sheet for 5-10 minutes before removing, permitting them to firm up.  Serve warm or at room temperature.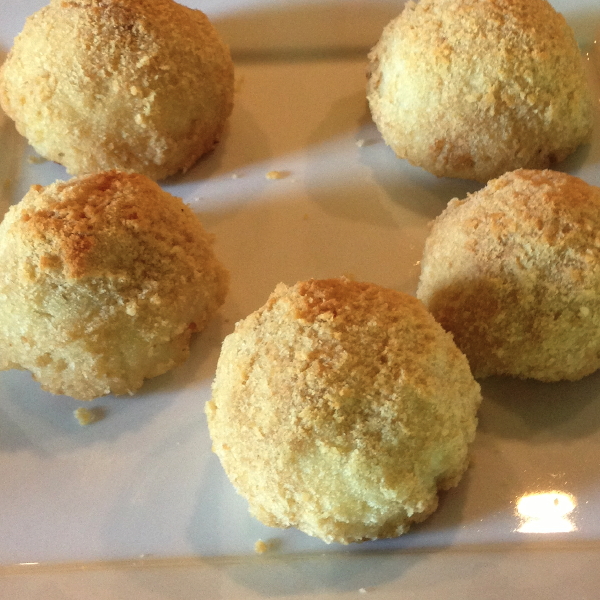 *Notes: 
Don't be intimidated by the number of steps in this recipe.  Like most things, it takes longer to tell you about it, than to actually do it.  It's really quite easy, and once you get going, the process goes pretty quickly.
Of all the different types of potatoes available, I chose the white potatoes because of their versatility and lovely smooth texture when mashed without the addition of fats or liquids.
Make the filling first. It doesn't matter how cool/cold the filling gets. It does matter if the potatoes get cold, because they're harder to work with, and cold potatoes will make the molding process take longer than it would if they're warm.  If the potatoes get too cold, the warmth of your hands will help, but it will take a bit longer.
You can make these up to a day ahead of time, right up to the baking part. Just cover the baking sheet containing the potato balls (in the freezer at least 15 minutes, first) with plastic wrap and keep them in the freezer or refrigerator until ready to bake.  They may take an additional few minutes in the oven.
Feel free to halve the recipe, but why would you want to? Just put any you might have left over into a freezer storage bag and freeze. To reheat, place them frozen onto a baking sheet and heat in a 350º F oven for about 20 minutes.
Protein, fiber, vitamins, vegan, low-fat (so everyone can enjoy!), and flavor that says "gourmet", instead of "calle" (street).  Now, that's an Amazing App!