When we last left our heroes – oh, about two weeks ago – a Mysterious Package had arrived at their doors from Foods from Chile and Kitchen PLAY.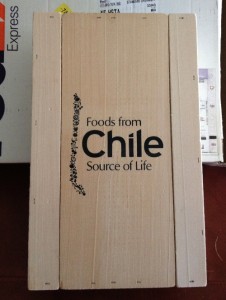 Revealing: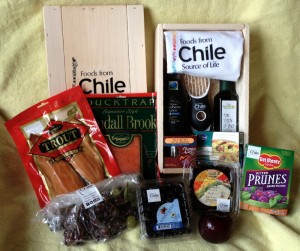 A bounty of diverse and delicious foods that come from Chile!  Our challenge? To concoct a recipe using some of these interesting ingredients, inspired by you.  For a solid week, my four fellow bloggers and I watched the space at Kitchen PLAY, waiting for the perfect inspiration. As it turned out, I didn't have to wait that long.
When I read the suggestion of Renee of Magnolia Days, it hit me! Renee said: "I think a blueberry martini or cocktail of some sort using blueberry juice and/or blueberries would be great."
Of course!  You already know that one of my signature Freakin' Flamingo jam flavors is Blueberry Mojito.  It's so popular that I'm not allowed to stop making it!  But if you research recipes for Blueberry Mojito cocktails, all you find are recipes that are pretty much just regular mojitos with a few blueberries tossed in. Big deal.  I use tons of fresh blueberries and their juice in my jam, so why not amp up the actual cocktail?  The bottle of 100% Pure Fruit Chilean Blueberry Juice, plus the fresh blueberries from Chile in my Mystery Crate, gave me the perfect opportunity.
A Really Good Blueberry Mojito  (Makes one cocktail)
Ingredients:
 10 – 12 fresh mint leaves
½  of a key lime or Persian lime
2 Tbs. simple syrup (more or less to taste)
2 oz  100% Chilean Blueberry Juice
1 ½ oz  white rum
crushed ice
2-4 oz sparkling water or seltzer
sprig of fresh mint and some fresh blueberries for garnish
Method:
Place the mint leaves and lime (if using ½ of a Persian lime, cut it into several smaller pieces) in the bottom of a tall glass.  Crush them together with a muddler or wooden spoon. You don't want to break up the mint leaves too much – just release their essence.
Add the simple syrup, blueberry juice, and rum. Stir briefly, then fill the glass with crushed ice. Top with the sparkling water or seltzer, garnish and enjoy!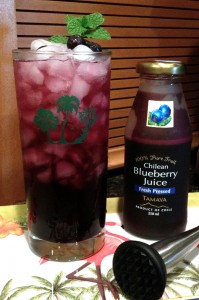 The fresh blueberry juice from Chile is sweet, but not cloying, and adds a refreshing depth to the drink that I think you'll really like.  And think of all those wonderful antioxidants! Don't tell me that I don't think about your health. *wink!*
So, thanks, Renee! And no, I didn't pick her because her name is Renee. Purely a coincidence.
And now, if you don't mind, I believe the sun is over the yardarm. Somewhere.
Don't forget to join us tonight, Tuesday, May 7th at 7:00 pm for a Twitter party celebrating Foods from Chile! Go register (http://kpcookchilean.eventbrite.com).  Now.  Seriously. Five more Foods from Chile gift crates are up for grabs and you could snatch up one of them!  Who knows what you'll come up with?  All I know is, you'll be inspired!
(This post is sponsored by Kitchen PLAY and Foods from Chile. All opinions are my own, as always. Really? You had doubts? Please.)