If you know me at all, it should come as no surprise that I will try to make jam or jelly out of nearly any edible plant life, these days. I love the challenge, and when it works, there's no greater rush! I'm also into multitasking my jams and jellies – that is, using them for more than just toast at breakfast –  and am always encouraging people to "think outside the jar".
When I had the opportunity to work with the Wild Hibiscus Flower Company, I knew I had to come up with something unique. Something that you would want to share with your family and friends on any special occasion.  This is – bar none – the easiest jelly recipe on the planet. If you can boil water, you can make this Wild Hibiscus Jelly. And if you made it that far, you can throw together these Wild Hibiscus Jelly Trifle Shooters in just a few minutes. No one needs to know that you didn't break a sweat!
Did I mention the giveaway? No? Well, Wild Hibiscus Flower Company wants you to join the fun! You'll find all the details after the recipes. I keep telling you that I'm sneaky that way.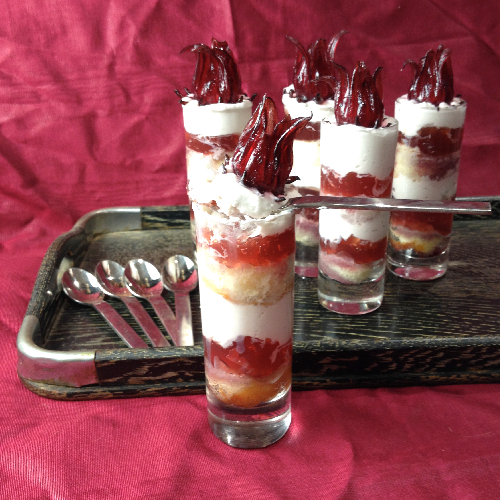 Even if you're not a canner, this jelly is so easy to make, it could turn you into one! You can pour it into pretty canning jars, tie them up with a ribbon, and have truly unique and delicious hostess gifts, or whenever you have a "gifting emergency".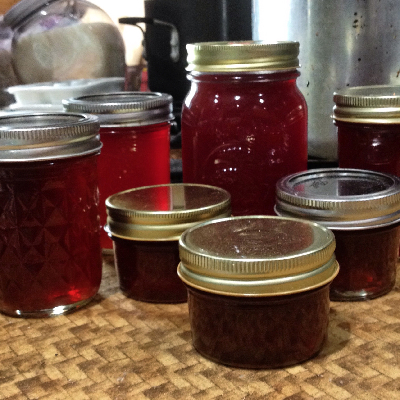 Wild Hibiscus Jelly
Ingredients:
4 cups water
5 Wild Hibiscus Heart-T herbal tea bags
2 Tbs. lemon juice -or- 1/2 tsp powdered citric acid
5 tsp. Pomona's Pectin calcium water*
2-1/2 cups pure cane sugar
5 tsp. Pomona's Pectin pectin powder*
Preparation:
Place a small dish in the freezer for gel-testing, later.
In a 4 quart or larger saucepan, bring the water to a boil. Remove the saucepan from the heat, remove the tags from the tea bags and place the tea bags in the hot water. Stir, then cover and allow to steep for about an hour. Remove the tea bags from the water.
Bring the tea back to a rolling boil over high heat. Add the lemon juice (or citric acid), and the calcium water.
Mix the pectin powder thoroughly with the sugar, and add it to the pot gradually, stirring vigorously until the sugar and pectin are completely dissolved.
Continue boiling for another 2 minutes.  Take the dish out of the freezer and place a small amount of the liquid onto it. Return the dish to the freezer for another 2 minutes. At the end of that time, remove the dish from the freezer. If the liquid is firm and wrinkles when pushed with your finger or the tip of a spoon, you're ready to jar up!
*(Recipe Note:  I only use Pomona's Universal Pectin in my jam and jelly recipes. Each box consists of 2 packets: one smaller packet that contains the calcium powder to be mixed with water – 1/2 tsp. calcium powder mixed with 1/2 cup of water  (that's the "calcium water"), and one larger packet that contains the pectin powder.)
Small-Batch Canning Instructions:
This recipe may be doubled if you want to make more to give as gifts or for future use.
Place a stock pot filled about 2/3 with water on the stove and bring to a boil. Make sure that there is a rack or a pot holder in the bottom of the pot, so your canning jars do not come into direct contact with the bottom of the pot, itself.
Sterilize the appropriate number of jars by placing them in the boiling water. Boil for 10 minutes.
Heat the jar lids in the boiling water for a minute or two.
Empty the water out of each jar, then fill with the hot jelly, leaving 1/4″ to 1/2″ headroom at the top. Place a hot lid on top of the jar and screw on the lid ring, finger-tight.  Place the filled jar back into the pot of boiling water and boil for 5 minutes.
Remove the jar(s) from the boiling water and place on a towel or newspaper-covered surface to cool and seal. You should shortly hear the *ping* or *pop* of the lid sealing. When completely cool, store on a shelf or in a cupboard, away from heat and direct sunlight. If a jar does not seal within 24 hours, refrigerate and use within 2 weeks.
 ~~~~~~~~~~~~~~~~~~~~~~~~~
Okay, what else can I do with it?
I'm so glad you asked!  Here's that easy peasy, but elegant dessert I was talking about earlier. These Wild Hibiscus Trifle Shooters take only a few minutes to put together, and make a light counterpoint to the heavy meals and other rich foods we always seem to indulge in, this time of year. Displayed with your pies, cakes, and cookies, these will be the little jewels of the dessert table! You can make as many or as few as you'd like, so there are really no measurements – just assembly.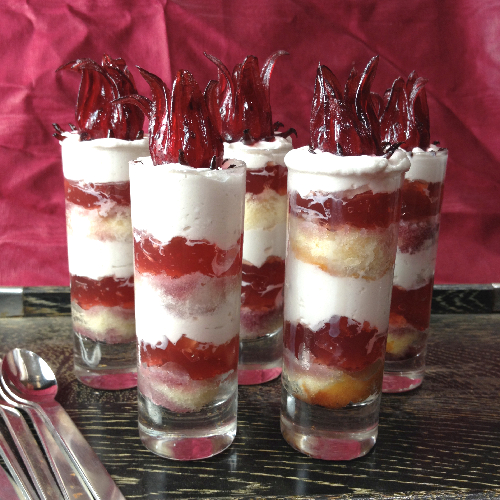 Wild Hibiscus Trifle Shooters
Ingredients:
Store-bought or homemade pound cake
Wild Hibiscus Jelly
1 (or more) jars of Wild Hibiscus Flowers in Syrup (your choice of Original or Rose Syrup)
Whipping cream (your choice of regular or heavy)
*Optional – Wild Hibiscus Flower Pyramid Salt Flakes
Tall shot glasses (glass or plastic from your local party store)
Several dessert spoons
Pastry brush
Preparation:
Drain the Wild Hibiscus Flowers, reserving the syrup.
Whip the cream until very soft peaks form. Add one tablespoon of the Wild Hibiscus Syrup per half-cup of cream, and continue whipping for another few seconds until firm. Set aside.
Slice the pound cake into 1/2″ slices, lengthwise. Take one of the shot glasses that you're planning to use, and use the rim to cut circles out of the slices of cake. You'll want 2 circles per shooter. Set the circles aside.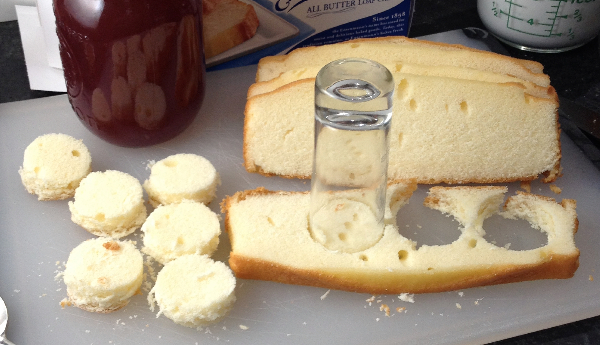 Ready? Let's put it together!
Brush each cake circle with some of the reserved syrup and use a dessert spoon to help push it to the bottom of a shot glass.
With another dessert spoon, put a spoonful of Wild Hibiscus Jelly on top of the cake.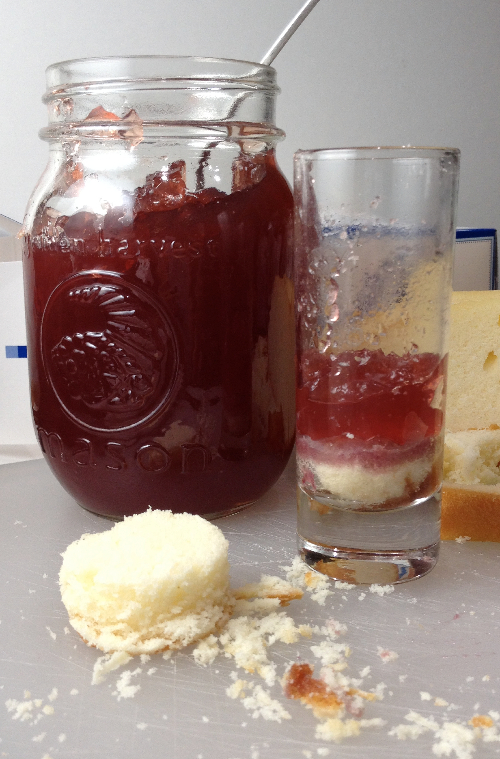 Put a spoonful of the whipped cream on top of the jelly.
Repeat with the next layers: cake circle brushed with syrup, jelly, whipped cream. Garnish with a Wild Hibiscus Flower.
*Optional: Sprinkle each with a bit of Wild Hibiscus Flower Pyramid Salt Flakes just before serving.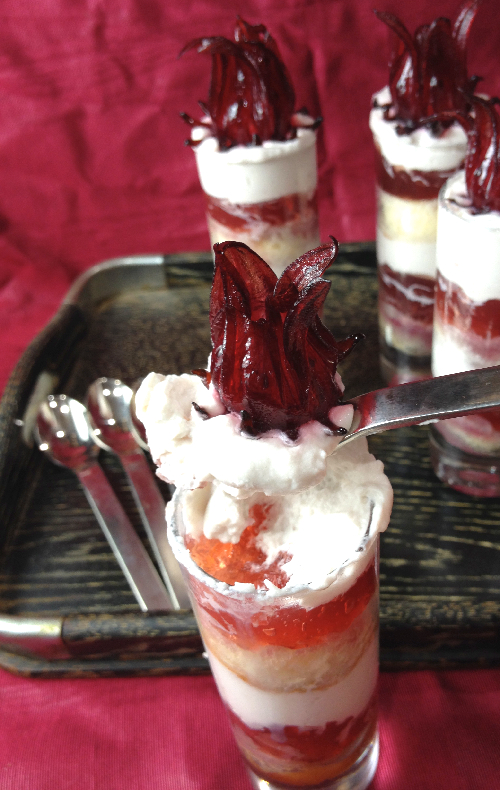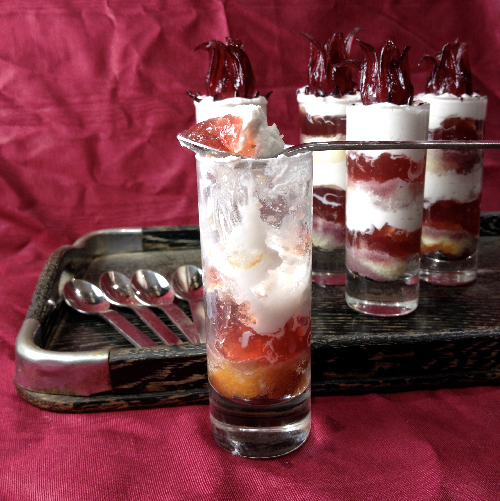 ~~~~~~~~
I want you to make this fun and fabulous jelly and dessert, so Wild Hibiscus is going to send one lucky winner a gift package containing one jar of the original Wild Hibiscus Flowers in Syrup, one jar of Wild Hibiscus Flowers in Rose Syrup, one box of Wild Hibiscus Heart-T (herbal tea), and one package of Wild Hibiscus Flower Pyramid Salt Flakes – a $45 value!  You'll have everything you need to make my Wild Hibiscus Jelly and elegant looking Trifle Shots. Except the cake and whipped cream. But you can handle that, right?
This is a quickie – it ends Monday night (November 24) at midnight – so don't wait! Just click into the Rafflecopter box, below, to enter! (U.S. addresses only, please)

While I was compensated to write this post, all opinions, recipes, text, and photographs are my own and original to RJ Flamingo and her real-life alter-ego, and are copyrighted materials, not to be reproduced in any form without express permission from the author. Links contained in this post may be affiliate links to my Amazon store. If you start here and buy anything on Amazon, I get a small commission. This does not increase your price, but does help me pay my web host. And buy food. Thank you for your support!