Breakfast is not my favorite meal of the day. Most mornings I can do well without it. Coffee. The "Water of Life".  That's my only requirement. If I've got coffee, I'm good.  I can only rarely look food in the eye before 9:00 A.M., and even then…   Which yields to the  classic Sunday morning scene at our house: "What's for breakfast?" "I dunno. I'm thinking." An hour passes. "Have you thought about it? What's for breakfast?" "Still thinking." Before you know it, it's nearly noon. The voice becomes slightly more demanding. "Food!"
I started thinking about the breakfast buffet at the Doubletree Hotel in Orlando, where we stayed recently.  Because it's such a huge tourist destination, their guests are from all over the globe, and their breakfast buffet reflected that diversity with items that could be combined to make breakfast feel a bit more familiar.  Are you from Britain/Ireland? You can have broiled tomatoes topped with cheese and baked beans with your eggs and sausages.  Central/South America? Maduros (fried sweet plantains) and black beans and rice were right there next to the pancakes and french toast.  Different cultures start the day differently, so why shouldn't we shake things up a bit from time to time? And it only takes a few pantry ingredients and a couple of minutes longer than toasting a bagel!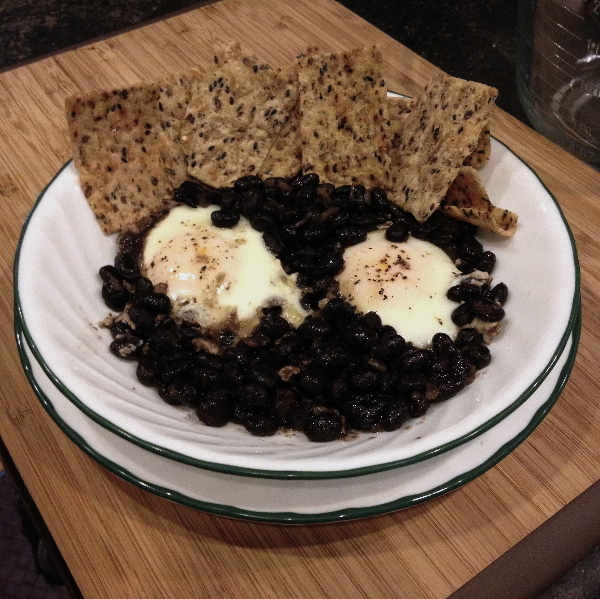 Quick Black Beans & Eggs
(serves 2, but can be multiplied)
Ingredients:
1 Tbs. olive oil
1 15.5 oz can black beans (with liquid)
1 Tbs. dried minced onion
1 tsp. ground cumin
1/2 tsp. garlic powder
1/2 tsp. jalapeño pepper powder (optional)
salt & pepper
4 large eggs
Tortilla chips
Preparation:
Heat the oil in a large sauté pan over medium-high heat.  Add the black beans to the pan, including the liquid in the can. Add the onion and seasonings and stir well. Cover the pan tightly and reduce the heat to medium-low.  Allow to simmer for about 5 minutes.
Remove the lid, and with a large cooking spoon, make 4 wells in the bean mixture. Carefully break one egg into each depression, trying to keep the egg whites compartmentalized.  Sprinkle each egg with a bit of salt and pepper.  Replace the lid onto the pan and allow the eggs to cook to your desired firmness (about 2-3 minutes for softer yolk, about 4-5 minutes for well-cooked).
Garnish with tortilla chips (here I used Riceworks wild rice chips with black sesame and sea salt, but you can use whatever you like).  A sprinkle of chopped cilantro or green onion on top would be good here, too.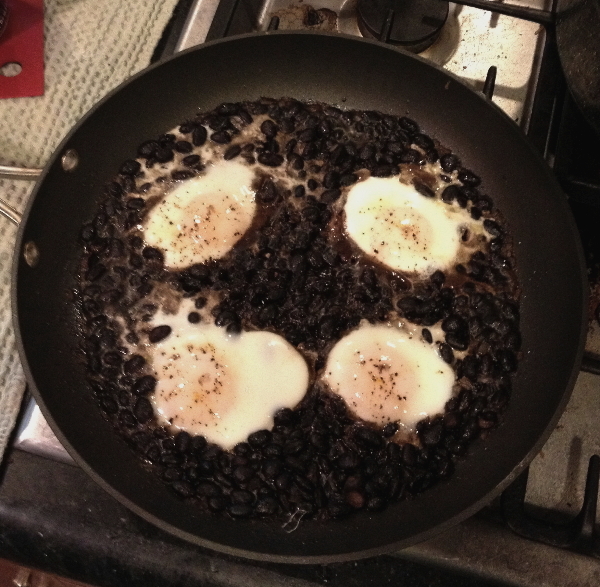 Yes,  I know. Breakfast is the most important meal of the day. The Husband even emailed me a BBC article about a study of men aged 45 – 82 (he conveniently fits in that bracket), and the importance of their eating something "healthy and balanced", preferably within an hour of waking up, to their heart health. Hint.
Serve with a little fresh fruit on the side and you've got the perfect late morning/early afternoon brunch dish that will carry you through the day without weighing you down. Protein, fiber, B vitamins, iron, and a ton of flavor to kickstart your morning during the week, too. In fact, why wait for Sunday?