Still looking for the perfect cookie to say "I Love You"? Look no further. Linzer cookies can be made in virtually any shape or size, but it's the jam-filled center that does all the talking!
Try this recipe that I adapted slightly from my friend and cookie maven, Marye Audet-White, prolific author, recipe developer and food blogger at Restless Chipotle, and her book, The Everything Cookies and Brownies Cookbook: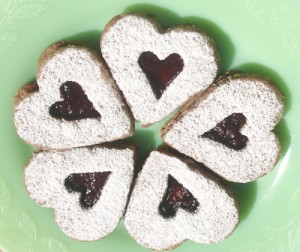 Almond Linzer Heart Cookies
(makes about 24 cookies) Adapted from The Everything Cookies & Brownies Cookbook by Marye Audet
Ingredients:
 ¾ cup (1 ½ sticks) unsalted butter
½ cup sugar
½ – 1 tsp. lemon zest
1 large egg
1 tsp vanilla extract
1 ½ cups finely ground almonds
2 cups all purpose flour
½ tsp baking powder
½ tsp ground cinnamon
Approx. 1 cup strawberry jam for filling (Of course, I recommend Freakin' Flamingo jams)
Powdered sugar for dusting
Preparation:
In a medium mixing bowl, cream the butter and sugar together with an electric hand mixer, until fluffy.  Add the lemon zest, egg, and vanilla extract. Beat until smooth, scraping down the sides of the bowl, occasionally.
In a large mixing bowl, whisk together the ground almonds, flour, baking powder, and cinnamon, until well blended.  Mix the wet ingredients into the dry, until well incorporated and the mixture becomes a smooth dough.  Shape the dough into a circle or rectangle about 1/2 inch thick, wrap well in plastic wrap, and refrigerate for a minimum of 1 hour to 1 day.
Preheat oven to 350º F.
After refrigeration, roll the dough out to about 1/8" thickness and cut out cookies, using 3"-4" heart-shaped cutters.  Place on parchment or non-stick foil lined baking pans.  Using a ½" to 1" cutter, cut the centers out of half of the cookies.  Bake for about 12 minutes.
When the cookies are baked, allow them to cool for a few minutes, then assemble:
Dust the cookies that have the cut-out centers with powdered sugar.  These are the tops.
Take a solid cookie and spread with about a teaspoon of jam.  Carefully place the tops on the jam-spread bottoms, and press them gently together.
The cookies can be made a day or two ahead. Store in an airtight container with waxed paper or parchment paper between the layers.
You don't have to restrict yourself to strawberry preserves/jam, you know. Use your favorite flavor (or the fave of someone you love… hint, hint!)
Whatever you choose, the Love comes through loud and clear.  Happy Valentines Day!

P.S. -  Need more Valentines Day ideas?  Try: