Huge apologies to everyone who's had problems trying to make a purchase at Freakin' Flamingo over the last couple of days! Everything appears to be fixed now, though, and I've extended the CyberSale from today (Monday, 11/26) to Thursday, 11/29/2012! Who says there can't be a Cyber Tuesday, Wednesday, and Thursday? Huh? Rule broken! WooHoo!
Have you heard??? Freakin' Flamingo's having its first ever SALE! This weekend only – and online only – visit the website, load up on all your favorite Freakin' Flamingo and Oxford Falls products, and get 15% off your total purchase at checkout with the coupon code: CyberSale.  Valid only from Small Business Saturday (November 24th) through Cyber Monday (November 26th), so start shopping!
Now, while you're waiting for your order to arrive, more free stuff!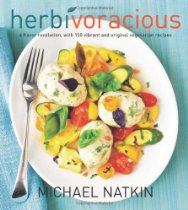 If you haven't heard of Michael Natkin and his terrific vegetarian blog, Herbivoracious, you've been really missing out! Natkin's blog is all about vegetarian cooking (not vegan – he uses plenty of dairy products and eggs, too) and features delicious recipes and gorgeous photography to lure you in.  He doesn't preach at you or try to convert you, but you'll learn something with every post.  It's vegetarian for the rest of us. And he brings that style home in his book, Herbivoracious: A Flavor Revolution with 150 Vibrant and Original Vegetarian Recipes. It has been on Top Ten lists from National Public Radio and Amazon.com, has received favorable reviews from just about everyone you can think of, and is in a second printing.
Sure, you can buy a copy through my Amazon Store (or click on Flamingo's Favorites over there in the sidebar), or you can WIN a copy, along with a very nifty OXO Mini Chopper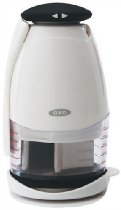 AND an awesome Freakin' Flamingo Market Bag!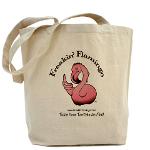 Because it's the HOLIDAYS! And you need PRESENTS!  And I won't even make you jump through (too many) hoops to enter!
Just leave a comment on this post. I dunno, say whatever you want to say. You know, using basically family-friendly language. Wish me a happy holiday season. Or tell me about your fave Freakin' Flamingo flavor (say that, 3 times, fast! Out-loud.)  Just make sure there's a working email address associated with your comment, so if you win, I can contact you.
You've got one whole week! After I get home from the NEW Farmers' Market opening, next Saturday, December 1, 2012, and I wake up from my nap, say around 6:00 PM (US / Eastern time), I'll pick one lucky winner through Random.org.  It's as simple as that! One comment/entry per person, please, and yes, I'll send it to you no matter where in the world you live! Happy Holidays!

So, SHOP then ENTER!  And if you're a local, come see me and help celebrate the opening of the NEW Southwest Community Farmers' Market, next Saturday, December 1st and enter my raffle for a Freakin' Flamingo Market Bag there, too!