I'm entering my slaw in the "
Can You Can It? Yes, You Can!
" contest at
Eve's
The Garden of Eating Blog
! The roundup will be posted on August 22nd,
followed by a week of public voting. You'll vote for me, right?
*****************

*The winner of Sarah Hood's new book, We Sure Can!, as chosen by Random.org, is Comment Number 6: Elle! I think you'll love it, and hope to hear about your new canning adventures in the future! Thanks for playing, everyone! We Sure Can! is now available through Amazon.com, too – you should get it anyway.

*
******************


Let the Pickle Party begin! And like any good party, I've got a prize for one lucky reader! But first, you have to read about my Pickled Chayote Slaw recipe. I'm sneaky that way.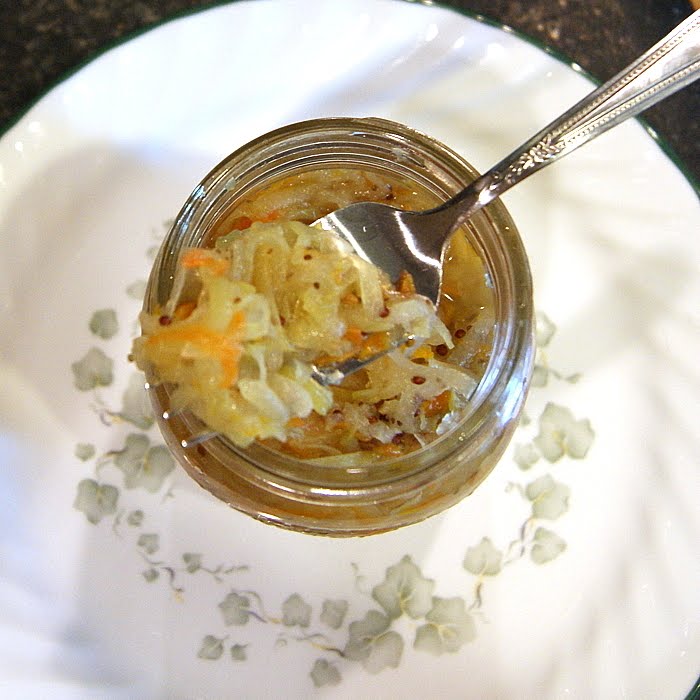 Pickled Chayote Slaw
All across the world, foodies and food bloggers are posting pickles. We want to show you that it's not as hard and scary as you think to "put up" some of nature's bounty – whether you grow it yourself or run across an incredible deal at your local farmers market – and take back some control of the food you put on your table. I chose to make a citrusy pickled chayote slaw for the Pickle Party.

At first, I thought I'd pickle some cauliflower for you, since that's one of my husband's favorites and he still hasn't forgiven me for trading the two jars we had left, at our recent Miami Food Swap. Since I started selling my jams at the South Miami Farmers Market every other week, though, I've had the opportunity to get in on some very cool produce at very reasonable prices. Last weekend, I was gifted with half-a-dozen chayote squashes.
Not familiar with "chayote"? Read this:

"The chayote (Sechium edule), also known as christophene, vegetable pear, mirliton, christophine (in France), chouchoute (in Vanuatu), choko (in Australia and New Zealand), starprecianté, citrayota, citrayote (Ecuador and Colombia), chuchu (Brazil), chow chow (India), cho cho (Jamaica), Sayote (Philippines) ,güisquil (Guatemala, El Salvador), or pear squash, iskus (इस्कुस) (Nepal) is an edible plant that belongs to the gourd family Cucurbitaceae along with melons, cucumbers and squash." — Source: Wikipedia

All parts of the chayote are edible. It can be eaten cooked or raw and is a great source of Vitamin C. The texture of chayote is crisp and slightly starchy and it has a very mild, slightly sweet flavor that is perfect for soaking up the flavors of whatever you choose to cook with it. It can be cooked like any other squash and is frequently shredded and mixed with lemon or lime juice for a slaw-like side dish.
This recipe was created for the "boiling water" canning method and will yield about 5 pints of pickled slaw. For detailed information on safe canning practices, please visit the link for the USDA Canning Guides that's in the "Places I Like To Visit" section of the far-right sidebar. And check out the links at the bottom of this post, too! – This weekend, we're going to be Canning Across America! Canning parties and live streaming videos from my friends at CanningAcrossAmerica.com!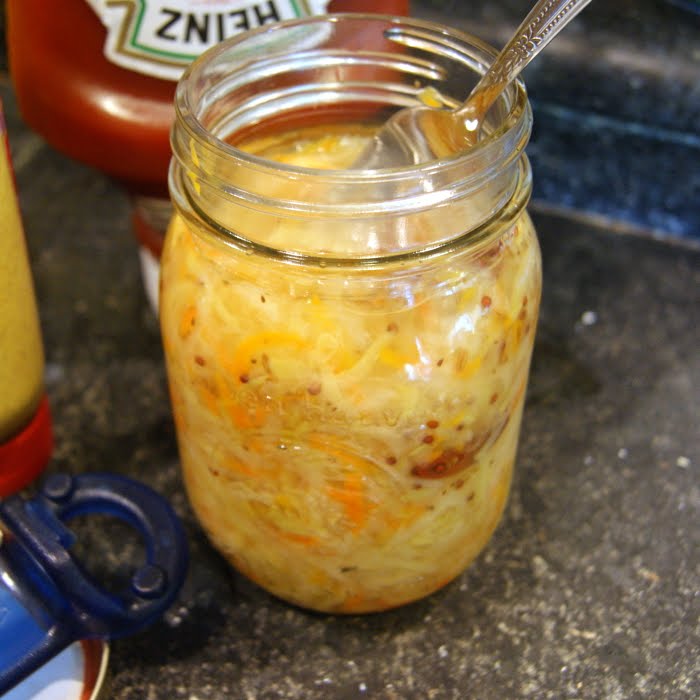 Pickled Chayote Slaw
Ingredients:
6 chayote, halved and cored

1 medium onion, peeled and halved

3 medium carrots, peeled and cut into thirds
4 cups white vinegar

1/3 cup lime juice (I used Key Lime juice. 'Cuz I'm a rebel.)

1 cup water

1/4 cup sugar (see *Note, below)

1 Tbs. canning salt
Cumin seeds

Celery seeds

Brown mustard seeds

Small dried hot chili peppers (such as Thai chilies) – optional
Preparation:
Fill your boiling water canning pot with water and put it on to boil. While it's heating, start prepping the vegetables and pickling liquid as follows:
Shred the vegetables, using the medium shredding disc of your food processor or the large-holed side of a box grater. Set aside.
In a 6 quart, non-reactive pot, combine the vinegar, lime juice, water, sugar, and canning salt. Heat to boiling, over high heat, stirring until the salt and sugar are dissolved.
When the liquid boils, add all the vegetables to the pot, stir to mix well, and return it to a rolling boil, and turn off the heat.
Heat your jars and lids in the boiling water canner.
Fill each jar with the hot vegetables to one-inch (1″) from the top. To each jar, add 1/4 tsp of the cumin seeds and mustard seeds, and 1/8 tsp of the celery seeds. Add one of the dried hot peppers, if using. Fill each jar with the hot pickling liquid to 1/2″ from the top. Poke around inside each jar with a long, thin utensil, such as a chopstick or fondue fork, to release any trapped air bubbles. This has the dual effect of distributing the spices.
Top each jar with a new canning lid, twist on the ring, finger-tight, and, making sure that the water covers the jars by at least one-inch (1″), process in the boiling water canner for 10 minutes. Turn off the heat and allow the jars to sit in the canner for an additional 5 minutes before removing them to a surface that's been covered with a dish towel or newspapers.
Allow the jars to sit, undisturbed, for 24 hours and check your seals. Any jars that didn't seal properly should be refrigerated. The slaw should be ready to eat in a day or two.
*Notes: Make sure to taste your pickling liquid before adding the vegetables, to make sure you've got the sweet/tart balance to your taste.
What I was going for, was something like a cross between a vinegar-dressed cole slaw and sauerkraut. It came out tart, only the slightest bit sweet, but still retaining a slightly crispy bite – very much like a cabbage-style slaw or kraut. You can eat this as a side dish with any kind of sandwich, or pile it on your favorite hot dog, as I did here: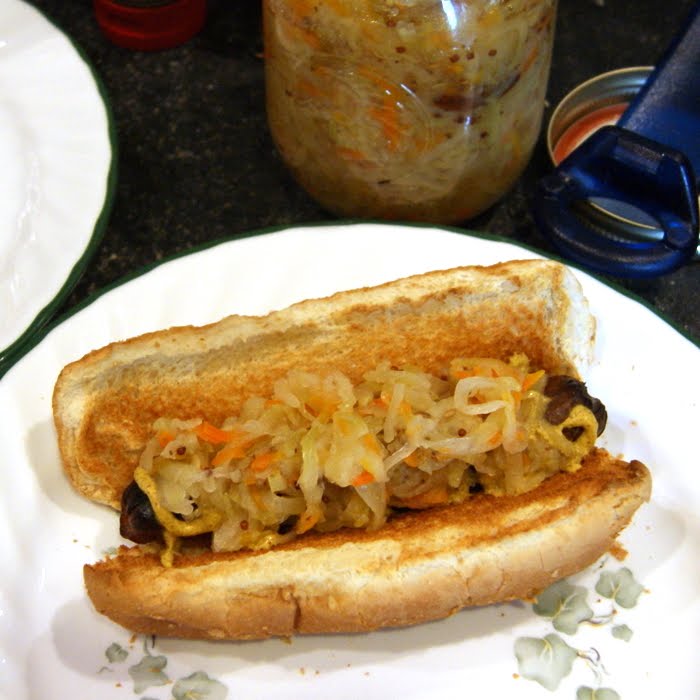 (Why yes, I did neglect to take a photo of the chayote before I shredded it for my slaw. If you'd like to see what it looks like in the raw, go here.)
Now for the even more fun stuff! If you've visited here in the last several weeks, you might have noticed this badge, over there in the sidebar:
I was surprised and delighted when Toronto food writer, veteran canner, and fellow Can-Jammer, Sarah B. Hood, asked to include one of my pickle recipes in her new book, We Sure Can! I tell you up-front that I was paid a grand total of $50 plus two copies of the book as compensation for my contribution.
Well, I just got my copies of We Sure Can! last week, and it is beautiful! Great photos and over 100 great canning recipes from respected and talented food writers and bloggers in whose company I am more than humble to find myself (including Sarah, herself). Seriously. Read more about this fabulous book and everyone who contributed, on the publisher's page.

So, what am I going to do with two copies, hmm? To celebrate the Pickle Party and the official launch of We Sure Can!, I am going to give my extra copy to one of you! To enter:
Leave a comment telling me about a favorite food memory and what you'd like to preserve;

AND/OR



If you're on Twitter, tweet this: "I entered to win a copy of "We Sure Can!", the new canning book by @SarahBHood, from @RJFlamingo. You can, too! http://bit.ly/qpwnsm" Then leave a comment saying that you did.

AND/OR



If you're on Facebook, please "like" Flamingo Musings, and leave a comment here, saying that you did.

AND/OR



Post on your Facebook wall "I entered to win a copy of "We Sure Can!", the new canning book by Sarah B. Hood, from Flamingo Musings. You can, too! http://bit.ly/qpwnsm", and of course, leave another comment here.
The winner will be selected by Random.org on Sunday night, August 14, 2011 at midnight. Please make sure there is a valid email address attached to your comment(s) so I can get in touch with the winner. If I don't hear from the winner by Tuesday, August 15th, another winner will be chosen. Please limit your tweets to once per day – I don't want you to annoy your friends!
P.S.: Did I mention that this is open to everybody, everywhere? What the heck – it's my nickel, right?
We Sure Can! is now available through Amazon.com, too!
If you want to learn more about pickling and preserving, don't forget National Can-It-Forward Day, this Saturday! Check out the links, below:

National Can-It-Forward Day
Streaming Can-It-Forward Demonstration Schedule
Happy Pickle Party!