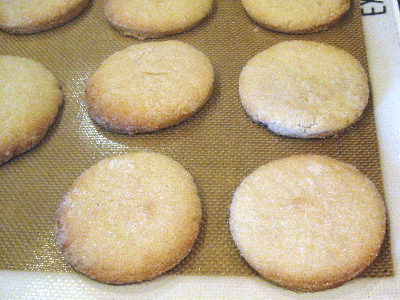 When I was a kid, one thing you could always count on was Mom's sugar cookies. They were (and still are) the only cookies she knew how to bake. But that was okay! They were (and still are) the best sugar cookies I ever had. To this day, you can walk into Mom's kitchen and always find the 50 year old plastic container she used as a cookie jar on top of the fridge and have a cookie.  She just mixes up a few simple ingredients, rolls out the dough, cuts them out, and bakes them. No waiting.  Imagine my surprise when I discovered that most roll-out cookie recipes call for an hour (or more!) chilling time before you can even think about eating them! Who has the time? Or patience?
Between shopping, untangling lights, wrapping (or unwrapping) and other holiday prep, your regular life doesn't press pause. You can only read so many articles on 'holiday hacks' before you realize that unlike Santa getting that belly like jelly down a chimney, there is no  miracle for making the holidays less busy. You can, however, find little ways to relieve the stress and smile more.
One way I've discovered is using free in-store pickup. Both Sears and Kmart offer free in-store pickup, letting you shop thousands of gifts online in the comfort of your own jammies before picking up your items in the store in 5 minutes guaranteed (or whenever you're ready)! With in-store pickup you'll avoid lines, busy stores and the wasted time of walking down every aisle. Learn more at Sears: http://bit.ly/HL896t and Kmart: http://kmrt.us/1bmIoRk
Now it's no question that you should try free in store pickup at Sears or Kmart but there's now a question of, what will you do with more free time over the holidays? Well, that's a no-brainer, too! Bake my Mom's cookies!
My Mom's No-Chill Sugar Cookies
Ingredients:
2 cups AP flour
1 tsp baking powder
¼ tsp salt
1 egg
½ cup sugar
¼ cup vegetable oil
¼ cup lemon or orange juice
1 tsp vanilla
Additional white sugar or colored sugars for decorating (optional)
Preparation:
Preheat oven to 350º F.  Prepare a cookie sheet by your choice of (a) lining it with parchment paper; (b) lightly greasing it; or (c) lining it with a silicone baking mat.
In a large bowl, sift together the flour, baking powder and salt. Make a well in the center. Add the egg, sugar, oil, juice and vanilla to the well. Stir together, then switch to using your hand to combine thoroughly into a firm dough.
Roll out the dough to ¼" thick and cut into whatever shapes you like, using a 2″ cookie cutter. Dip the top of each cookie into your decorating sugar (if using). Bake for about 20 minutes, or until the bottoms are golden brown. Remove the cookies from the pan and allow to cool on racks.
Alternatively, bake the cookies before decorating, and when they've cooled, have at it with the kids!
Yields about 2 dozen 2-inch cookies.
Presented by Mami Innovative Media, this is a sponsored post on behalf of Sears and Kmart. All opinions expressed here are my own. So's the recipe.