Cucurbits. You'd be right in thinking "cucumbers," because they are a major part of this family of gourds. I'm betting you'll see a bunch of pickled cucumbers in this month's Can Jam, and honestly? I probably would have made some myself if they weren't out of season down here. We're a little out of sync with the rest of y'all.
But what we are getting, are melons! Cantaloupe (and their brothers and sisters of the musk melon sub-family) and Honeydews. And thanks to the USDA Canning Guide, I actually found a method of preserving them, using our required hot-water bath method. So, for this month's Can Jam, I bring you something (I think) weird and wonderful.
I bring you: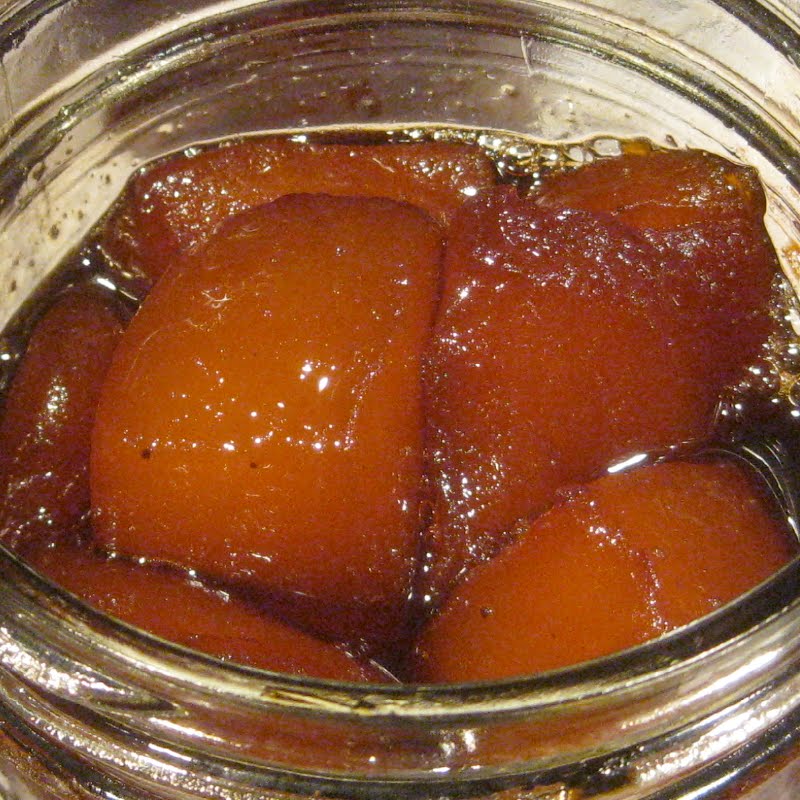 CANTALOUPE PICKLES (makes about 4 pints)
Ingredients:
5 lbs of 1-inch cantaloupe cubes (about 2 medium underripe* cantaloupe)
1 tsp crushed red pepper flakes
2 one-inch cinnamon sticks
2 tsp ground cloves
1 tsp ground ginger
4-1/2 cups cider vinegar (5%)
2 cups water
1-1/2 cups white sugar
1-1/2 cups packed light brown sugar
Select cantaloupe that are full size but almost fully green and firm to the touch in all areas including the stem area.
Preparation:
Day One: Wash cantaloupe and cut into halves; remove seeds. Cut into 1 inch slices and peel. Cut strips of flesh into 1 inch cubes. Weigh out 5 pounds of pieces and place in large glass bowl. Place red pepper flakes, cinnamon sticks, cloves and ginger in a spice bag and tie the ends firmly. Combine vinegar and water in a 4-quart stockpot. Bring to a boil, then turn heat off. Add spice bag to the vinegar-water mixture, and let steep for 5 minutes, stirring occasionally. Pour hot vinegar solution and spice bag over melon pieces in the bowl. Cover with a food-grade plastic lid or wrap and let stand overnight in the refrigerator (about 18 hours).
Day Two: Carefully pour off vinegar solution into a large 8- to 10-quart saucepan and bring to a boil. Add sugar; stir to dissolve.
Add cantaloupe and bring back to a boil. Lower heat and simmer until cantaloupe pieces turn translucent (about 1 to 1-1/4 hours). Remove cantaloupe pieces into a medium-sized stockpot, cover and set aside.
Bring remaining liquid to a boil and boil an additional 5 minutes. Return cantaloupe to the liquid syrup, and bring back to a boil.
With a slotted spoon, fill hot cantaloupe pieces into hot pint jars, leaving 1-inch headspace. Cover with boiling hot syrup, leaving 1/2-inch headspace. Remove air bubbles and adjust headspace if needed. Wipe rims of jars with a dampened clean paper towel. Adjust lids and process 15 minutes.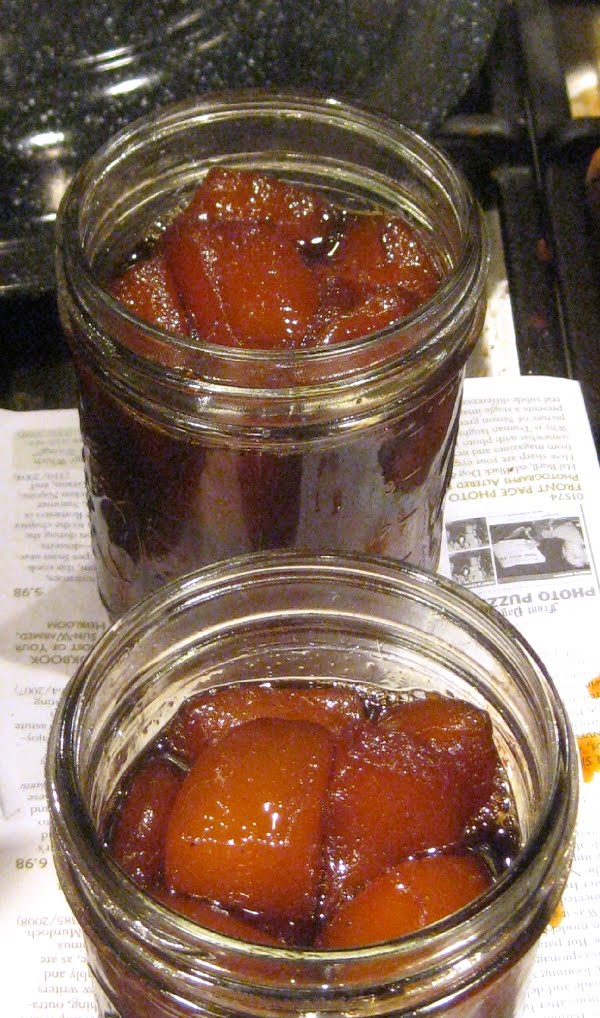 I wasn't sure I was going to like Pickled Cantaloupe, and was glad to see that I was able to perfectly halve this recipe and made two pints. But you know, what? They're pretty good! Chilled and served as a side-dish, they compliment barbecued chicken, really well.
Surprised? I was!